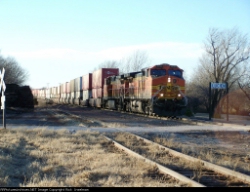 Welcome to the RRPictureArchives.NET contributor site of Rick Inselman.



Thank you for viewing my shots, hope you enjoy my perspective of trains in Oklahoma and surrounding areas. Most of my photos will be in central Oklahoma, some times even outside the state.

Born and Raised in the Sooner State near the Frisco Main line (now BNSF Avard Subdivision).

I'm also the Great grandson of a Frisco Employee (Enid Sub), and was inspired by my great uncle Virgil who had a great passion and love for trains.

I am a big ATSF fan along with BNSF, Frisco, and anything that shoots out steam or rides the silver rails.

My hobbies are photography, trains, and N-Scale Trains - Ok-Nrail - www.oknrail.org which I have been a member of since 1999.

On the web here are couples of my favorites links as well.

http://finance.groups.yahoo.com/group/OKrailroadCouncil

http://www.oklahomarailwaymuseum.org
http://finance.groups.yahoo.com/group/soonerstaterails

http://finance.groups.yahoo.com/group/BNSF

Email me if you have any questions at sfhobo@yahoo.com

Please share your comments when you get the chance.

Happy Hunting! (Rail fanning that is)

Rick

PS - Be safe and courteous in your trek(s)!



You may browse my collection of pictures via the menu located on the left hand side of the page. I hope you enjoy the collection and thanks for stopping by!